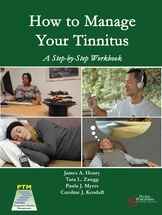 I am a fan of Progressive Tinnitus Management so I was really excited when I heard Dr. James Henry was coming up to Vancouver BC to give a session on it at my annual audiology conference. PTM uses a progressive approach depending on how distressed a person is about their tinnitus. It comes in a self-help workbook available from Plural Publishing as well as a 3 book bundle package for mainly audiologists/psychologists outlining the PTM protocol. All the books can be purchased individually. Like most current tinnitus therapies, PTM is not about changing your tinnitus sound. It's about managing your reaction to it.
You can use the the How to Manage Your Tinnitus workbook on your own. If you're interested in more formal PTM, you would need to find an audiologist and/or psychologist who are using the PTM approach, and ideally, but not necessarily, who have also gone to a How-To workshop through Dr. Henry's group. I believe PTM is currently available mainly through clinics in the United States (especially VA clinics). But some Canadian audiologists are also using PTM. I hope that more audiologists become experienced with the PTM approach so that our clients will have more tinnitus management options available.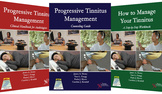 Are you a candidate for PTM? Self help, individual education, group education or one-on-one support? It depends how distressed you are. And in the end it all comes down to cost-benefit analysis. Would it be worth the cost and effort for you?
Jan L. Mayes ©2010
Note: The following people have contributed to PTM research findings and development of the PTM educational materials including: Dr. J. Henry, Dr. T. Zaugg, Dr. P. Myers, Dr. C. Kendall, Dr. S. Fausti, Dr. S. Griest, C Kaelin, Dr. K. James, L. Kitagawa, Dr. M. Legro, M. Moody, Dr. S. Oliver, K. Owens, Dr. M. Schechter, Dr. B. Stewart, E. Thielman.